Kalbo, wala na sa kalendaryo!
Thanks to everyone who sent greetings, came to my party, and called :-)
I had my birthday party on the 17th, three days early. I booked
Dine&Jam
for it. I am only the 2nd person to do this; the 1st one was someone's despedida. Of course seeing as I am directly involved sa Dine&Jam it doesn't really count. Plus, after 1 set the band had to run to another engagement & so there wasn't any jamming involved. Check that, there
was
jamming involved! As is customary here, sa final song nila Tim naglabas sila Dinky ng shakers, tambourines - even a pair of maracas - for the crowd to join in. Scroll down to the first photo: Percy's gettin' jiggy wid the maracas. Fun, though! I finally got utols to see what the setup is like, Faye & Indira, and Mylene & Aldwin completed the guest list. Some friends of Tim's, Dine&Jam regulars and dubbed our household's
ampons,
were also there para makigulo.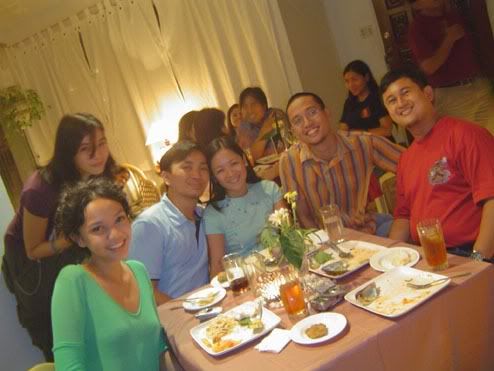 Of course even though it was my birthday I was still the chef. Percy, who arrived early, helped me in the kitchen along with Steph. We made Pasta Supremo (the spanish-sardine pasta I served nung
Dine&Jam5
paired with Kesong Puti Pandesal; Penne alla Boscaiola (penne, mushrooms, ham, creamy tomato & wine sauce, mildly herbed with marjoram) ; Beer-sausage spaghetti (a strong sauce made with plenty of onions, garlic & peppers, sausages, and yes, San Miguel pale pilsen) . Ace prepared his delicious topping for baked mussels, which Perce laid out & baked for me. Mama took charge of the dessert bar as usual, and served up lemon bars and zucchini cookies.
A few days before I'd started to get a little sad because there didn't seem to be plans for a photowall for me. Our family does this for birthdays: pictures of you go on the walls, and they stay there whole month. Yes, even embarrassing baby pictures. Truth be told, when you get a certain age those things just don't embarrass you anymore. So anyway, it's the day of my party and no one's mentioned a photowall. Steph shows up that afternoon & she'd had photos printed. Awwwww. Of course all she had were recent photos from our out of town trips and such. But when Sarah (Dinky) saw them she scrounged around for old photos (yes, the embarrassing ones included)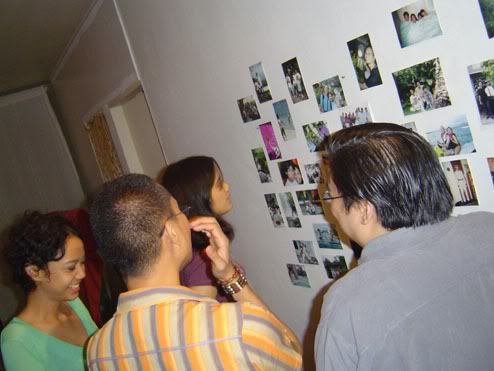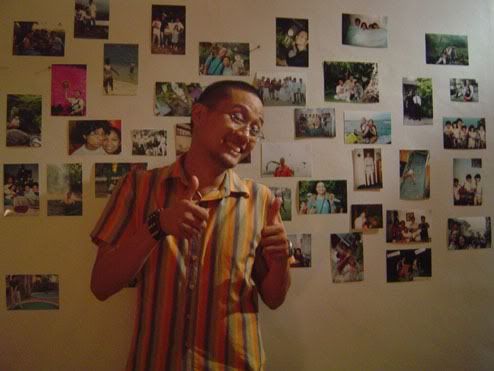 Photowalls aside, I'd been depressed for days leading up to the party for reasons I don't understand. Call it mid-life crisis, whatever, I was like that last year on my birthday itself. I felt miserable. This year when I was planning the party Steph asked me if I really wanted the party early and have nothing going on on the 20th itself. She was worried I'd be depressed on my birthday again. Thankfully, with Steph showing up with a big kiss and the photos, with getting a chance to chat with Perce while working together in the kitchen, with
cooking
always cheering me up, and with the way the party itself turned out, I'd say I was a damn happy man that night.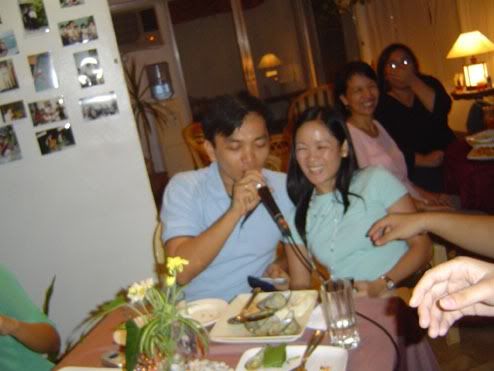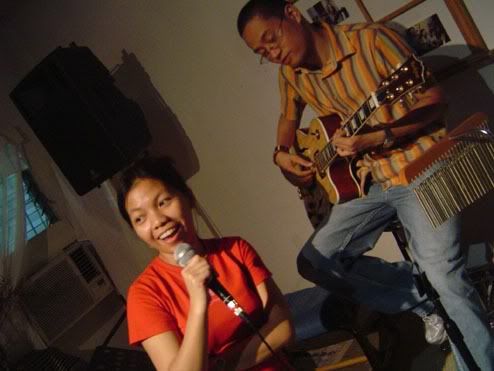 As for the 20th itself, Steph showed up with a cake and made sure we got to spend time together, and later with my family. It's been a good birthday :D