JB & Steph's Cebu Trip
Last month Steph & I had the amazing luck of getting a freebie trip to Cebu. Her mom, a labor attorney, needed to attend to a client of hers based in Cebu but was indisposed. She threw the errand our way, and we ended up with a two-day stay in Cebu with an allowance, all paid for by Mommy & her client hehehe. The only trade-off, a huge suitcase of case files to carry, and maybe 4 hours total spent at a typically inefficient government office. Steph's mom made all the flight arrangements, and even booked our hotel room for us.
I'd been to Cebu twice before to do shows. Unfortunately, because a stage manager's work hours are 25hours a day, my total Cebu experience hardly extended beyond the airport, The Waterfront Hotel (where we did Joseph the Dreamer), and SM Cebu (where we did the other show). There was a hurried visit to the Tabo-an Market to buy danggit, and a peek at Magellan's Cross after hours when the gazebo housing it was padlocked shut. No, wait a minute, when we did Joseph the Dreamer we did go to Shangri-La Hotel Mactan, where I snorkeled for about an hour. Ok so I did get a bit or RnR. But it was all so rush rush rush (ganyan ang buhay production hehehe)
I always used to think that foreign tourists, even those headed for the less beaten path, must still go through the baptism of fire that is NAIA. It never occurred to me that it's possible to come to the Philipines and never set foot in Manila kasi nga diba international airport naman ang Mactan? So Steph & I landed sa Mactan & headed for the Cebu Midtown. The client's representative who met us at the hotel to check us in was aghast we were only staying overnight. "Ma'am, one week na ilagay natin!" Hehehe we wished we could. Lalo na dahil libre lahat! Unfortunately we both had other obligations back in Manila & so couldn't stay longer. Of course two days still gave us plenty of time to see some sights, though the short stay of course ruled out any of the island hopping stuff, and the diving, which we would've really liked. We had to plan our itinerary well, and to help with that I had my trusty Lonely Planet Guidebook.
Cebu's main cities are Cebu City, Toledo, Danao, Mandaue, and Lapu-Lapu (on Mactan Island). You land in Lapu-Lapu, cross the Fernan B. Marcelo Bridge, and drive through Mandaue to get to Cebu City. It's often said that Cebu City is Manila minus the mayhem. Traffic isn't half as insane as Manila. And *gasp* the taxi drivers will actually hand you your change, down to the last beinte-singko!
The city's center has shifted inland over the years, and locals now refer to the newer precinct around Fuente Osmeña (where our hotel was located) as 'uptown' and the older district around colon Street (the oldest street in the country) as 'downtown'
So we arrived uptown midmorning, spent a few hours doing the legal legwork, and shortly after lunch we were ready for the sights. We figured we'd head north first, and head south the next day, then derecho na sa airport.
First off, the
Taoist Temple
. 3 words: waste of time. Buti na lang free admission so we wasted nothing but time (but time was something we didn't have a lot of) It's said the view is great up there, but as obscured by trees as it was, it was so-so. Not much of interest either, unless you're Taoist. Didn't stop us taking a few snapshots, eh?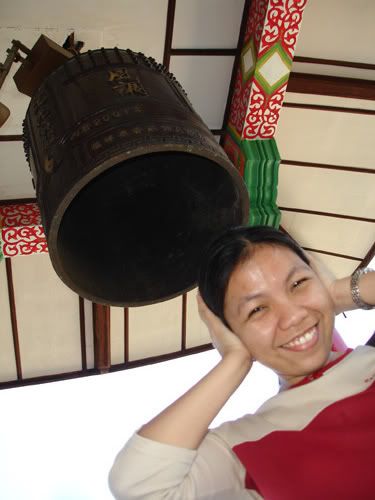 Would've been cool to actually hear the bell being rung
Big chinese drum thing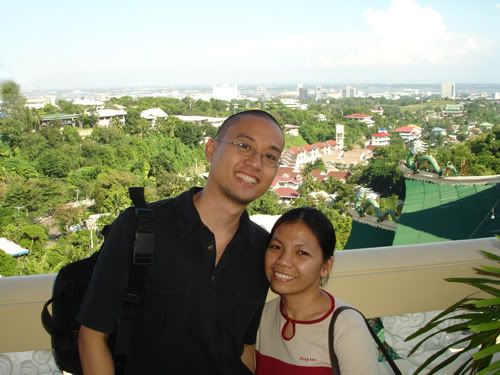 Well, there's the view. Ho-hum.
It's a heck of an expensive taxi ride, too. The guidebook says you can get close to it by jeep and then it's a short walk uphill, but trust me, don't bother. Go see a museum instead, like maybe the Gorordo Musem downtown.
Coming out of the temple we were lucky enough to find a taxi waiting for passengers. Otherwise it would've been a long wait or a long walk downhill, and the afternoon was wearing on. A word about taxis in Cebu: they'll try to get you to hire them to drive you to all the spots, maybe for the whole day. They're not pushy though, so it's tolerable. As our next stop,
Tops Lookout Area
was way up north and most likely as remote as the temple had been, we decided it wouldn't be a bad idea to do the touristy thing and have him wait for us. We still planned to have dinner at nearby Mr.A before heading back to the city. As it turned out, we made the right decision as Tops was waaaay remote up in Mt. Busay. The view this time was well worth it, though
(admission P100)
. We stayed til sunset.

The view from the top.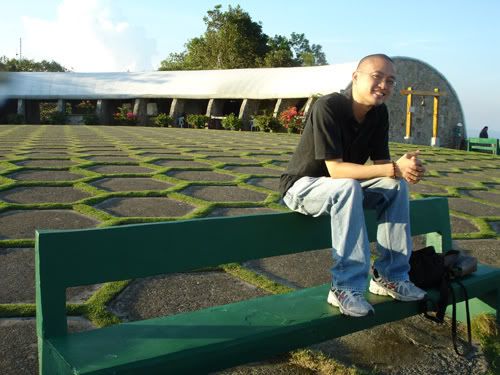 Hehehe yeah we did the corny touristy thing and rang the bell. Wala namang bayad eh.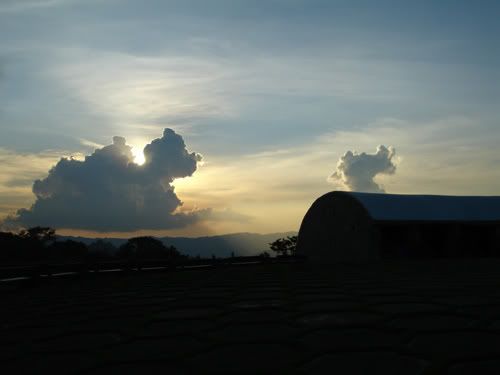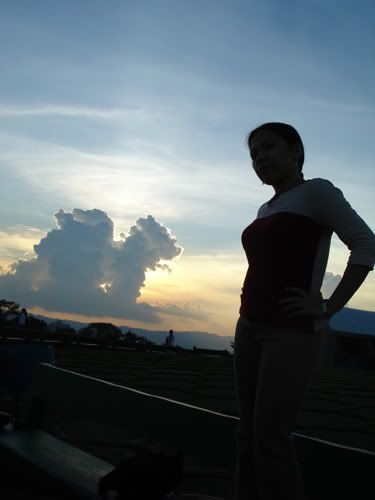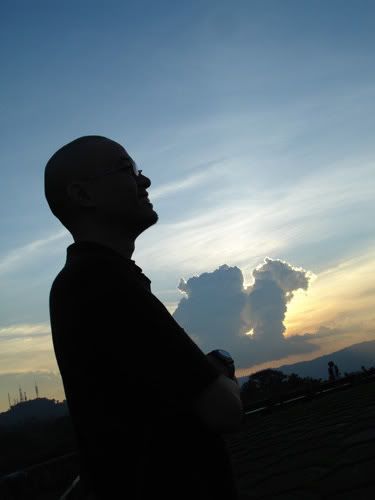 We'd planned to have dinner at nearby Mr.A, a favorite among the city's young professionals, supposedly a hip open-air pub type place with great views. Scrapped that idea as I was developing a migraine.
Two weeks before I'd had a bout of something flu-like, with a badly inflamed lymph node, violent night chills, and a low-grade fever. I recovered quickly but swelling in my lymph node never completely went away. Well that night in Cebu the infection came back with a vengeance. So much for eating out and sampling Cebu's fine seafood.
We headed back to our hotel room and I proceeded to scare the heck out of Steph with chills so bad it seemed like I was seizing. Oh yeah, room service at the Cebu Midtown sucks.
By morning I was good as new. After breakfast we checked out early and finished up our business errands. I guess the infection messed with my brain because I sort of screwed up our itinerary. Picture this: we go to Tabo-an Market to buy dried fish and squid (mucho yummy!), cross over to Mactan to look at the Magellan & Lapu-Lapu markers, lunch, head back over the bridge to look at Magellan's cross back in Cebu, cross back to Mactan & the airport. It was a half-hour drive each trip. Ok lang, we had fun. Could've been better planned. Like I said, my brains were fried. Turns out it was a great idea checking out early. We knew it'd save us time but we were worried about the huge suitcase, now emptied of papers, but still unwieldy, that we had to lug around. But then it allowed us to stow the smelly dried fish, and made for an improvised camera tripod, too!
Danggit, bai!
Here's the Magellan-Lapu-Lapu story again. I meant to write it up myself but the account in the Lonely Planet book was so funny I decided to just paste it up here.
Spaniards, go home!!
Magellan's Last Stand
A few sniggers must have gone around the royal palace when news reached Spain of Ferdinand Magellan's demise. It was 1521, and poor old Ferdinand had done the hard bit for his adopted country (he was Portuguese by birth). He'd sailed around the world. He'd quelled a mutiny. He'd landed in Samar and named and claimed the Philippines for Spain. And on Sugbu (modern-day Cebu), a vital trade center, he'd carefully befriended all the scariest tribal chiefs - or so he thought. There was one chief, Lapu-Lapu of Mactan, who wasn't so easily impressed. So what did Ferdinand do? He ordered 60 of his most bloodthirsty soldiers to suit up, along with 1000 obedient Cebuano warriors, and in a huge flotilla he sailed to Mactan to have a word with this Lapu-Lapu fellow. In a rush of pure European blood, he even told the Cebuano warriors to sit back, relax, and learn how the civilized world dealt with troublesome natives. But Lapu-Lapu and his men defended their island with unimagined ferocity, and Ferdinand was soon back on his boat - fatally wounded by a spear to his head, a poisoned arrow to his leg, and a mighty blow to his pride. --Mic Looby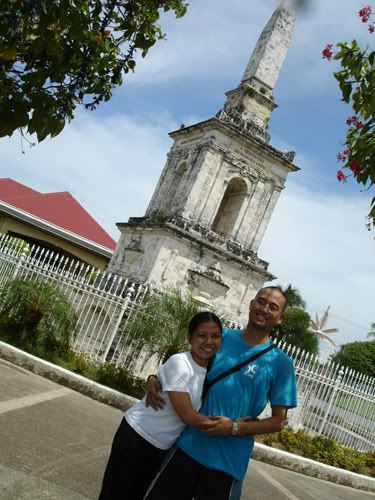 Hahaha I'm sorry, but a spear to the head?! That had to hurt hehehe. A few years after Lapu-Lapu & his boys showed Magellan what's what, Spain colonized the Philippines. In 1866, to honor Magellan, the Spanish government ordered a marker built on the site of the Mactan battle. After the Revolution and all, a statue was built of Lapu-Lapu just a stone's throw away. So you've got a statue of the ole datu looking fiercely out into the ocean, and behind him is the hunk of stone dedicated to Magellan. Obviously a recent (and hilarious) addition is a ring of datu's heads surrounding Magellan's marker.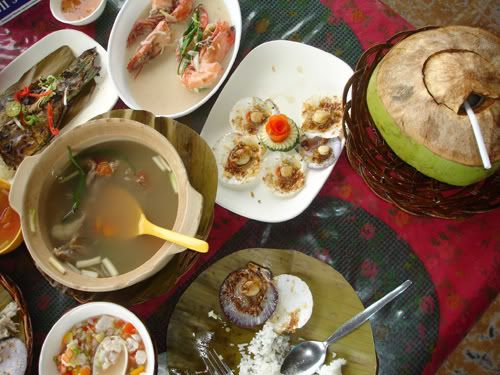 Ok. If you do just one thing in Cebu it has to be this: you gotta eat
sutokil
. After contemplating history at the Lapu-Lapu monument, it's a short walk to the dampa. Freshly caught seafood is available there. You have it weighed, and then cooked however you want. The must-try favorite is called "Sutokil" or "STK." short for sinugba-towa-kinilaw, a combination of three dishes. "Sinugba" is just the local word for inihaw. Fish stuffed with spices and then grilled is commonplace even in Manila, and a favorite of ours cooked at home, but it is always such a treat when it is freshly caught fish. The only time I had it fresher than this was when we were in Davao & we met the fishermen at dawn who were just coming in with their catch. "Towa" or "Tinowa" is seafood stewed in hot soup. I read somewhere that Tinowa is a Cebuano seafood version of Tinola. I don't see the resemblance. As you know I cook a lot, and I know that many pinoy dishes are almost identical, with just minor twists at the end that give the dishes their unique character. To compare Tinowa with Tinola though, is to set inaccurate expectations.
Well, so I was pleasantly surprised so it turned out well. We all know what "Kinilaw" is of course: raw fish marinated in vinegar and spices. Again, the freshness of the fish made the dish.
Here's what we ordered: we picked a big fat parrotfish (never had one of those to eat before, and I'll never look at them the same way again when I dive) and had it done STK. The way they did it made so much sense: Sinugba yung buntot, yung juicy belly was perfect for kinilaw, and of course the head made delicious soup. These guys know how to cook! In addition we had scallops fried in garlic butter, and a couple of big fat prawns cooked in coconut milk. Now if there was anything in that meal I took issue with, it was the artificial gata they used. I can tell fresh coconut milk from canned, boyeeee!! Ah but again, still delicious because of the freshness of the prawns. Also, Steph's fresh buko wasn't so fresh. What was it with those people and coconuts? Anyway, still a killer meal, and all under P500.
(Manna STK; open 11am-10pm daily)
Still a bit too early to go to the airport which was already close by, we decided we'd squeeze in a couple more tourist spots. We wanted to go see the guitar factories right there on Mactan, but that seemed a bit of a wild card with the time pressure and so we decided to go with the safe bet: Magellan's Cross back in Cebu City.
Burping all the way, we crossed the Fernan Marcelo bridge for the 2nd of three times that day.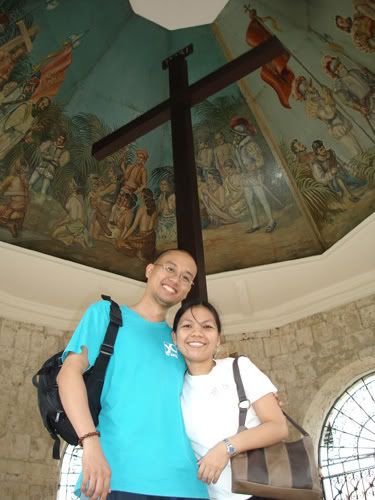 Magellan's Cross
You'd be cross too if you had a spear stuck in your head. Ferdinand's Catholic Legacy is housed in a stone gazebo (built in 1841) across from Cebu City Hall. The crucifix on show contains a few splinters from a cross Magellan planted on the shores of Cebu in 1521. A painting on the ceiling shows Magellan erecting the cross (actually, the locals are doing all the work - Magellan's just standing around with his pals).
"From time immemorial"?? Magellan landed in 1521. Seems somebody remembers the date. Duh.
If we'd had the time we would've made a few other stops:
Basilica Minore del Santo Nino
(a church and convent built in 1565 and burnt down three times, and rebuilt in its present form in 1737).
Fort San Pedro
Built in 1565 to keep a lookout for pirates, Fort San Pedro has since served as an army garrison, a rebel stronghold, a prison camp, and the city zoo. These days, it's in retirement as a peaceful walled garden.
Casa Gorordo Museum
Whereas Casa Manila (which is a favorite stop of mine in Intramuros) in Intramuros is reproduction of a 19th century house, Casa Gorordo used to be the actual home of the Gorordos, a merchant family. Built in the 1860s, the lower part of the house has walls of Mactan coral stone, cemented using tree sap. The upper storey living quarters are pure
tugus
hardwood, held together not with nails, but with wooden pegs. Items from the era are on display.
Getting around via taxi was fine but as with any city, I would've liked to learn the public transpo routes. With a longer stay, Steph & I would've liked to go island hopping and diving too, and then jaunt over to Bohol for maybe another week hehehe. But our two day Cebu adventure, such as it was, was still a memorable vacation.
Anything is, when you spend it with the right person, right?